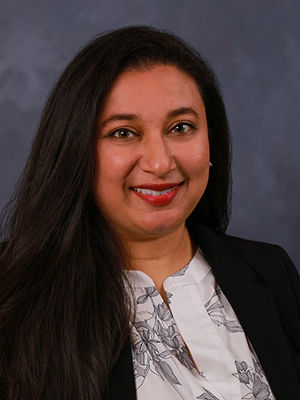 Dr. Halley Vora
What is your name, title, and job position?
Name: Halley Vora
Position and Title: Breast Surgical Oncologist; Assistant Professor of Surgery; Chairman Breast Cancer Tumor Board
In what clinical settings do you work?
I work in all clinical settings from ambulatory clinics to outpatient surgeries to inpatient rounding.
What makes your job so special?
The patients and the people I work with make my job incredibly special. In breast cancer, the best care requires a team and I work with an amazing group of nurses, patient navigators, and other breast specialized physicians to provide great individualized care for all our patients.
What is a typical day and week in your practice?
My typical day is usually seeing patients in clinic or spending the day in operations. My typical week consists of a few days of clinic and a few days of operating.
Most rewarding aspect of your specialty?
With all the advances in breast cancer management, we have the ability to provide curative treatments in many cases. I am lucky that I not only get to help guide my patients through a difficult time, but also get to build long term bonds and follow them over the years.
Most challenging aspect of your specialty?
Every patient and case is unique, therefore all the providers and the patient must work together as a team to determine the best course of treatment.
What is the lifestyle (work-life balance) of a physician in your specialty?
There is good work-life balance is in breast surgical oncology. Overall rates of emergency are rare.
Did you do any additional fellowship training after and why?
Yes! After my General Surgery Residency at Cedars Sinai Medical Center, I completed a Breast Surgical Oncology Fellowship at Harvard's Massachusetts General Hospital, Brigham and Women's Hospital, and Dana Farber Cancer Institute in Boston. There are constantly new developments in breast cancer care, therefore I pursued a fellowship to learn the most cutting-edge surgical techniques and how to adapt and apply up to date research.   
Why did you choose to work at Loma Linda University Health?
I believe in multidisciplinary patient-based care. I knew that at Loma  Linda University I would have the ability to provide individualized whole patient care.